Live Help
Click above for
LIVE HELP
or if we are offline you can leave us a message and we'll get back to you.
Become a Customer
Become an Angling Lines customer and receive Email news from our venues plus details of any offers we are running.
Click here
if you'd like to become a registered customer.
Carp fishing in France at Laroussi
Laroussi
15
75lb
7
8
2h 15m
Caen
Per angler, per week from...
£361
based on
8 anglers. Lake exclusive. 2 x car crossings.
Laroussi Video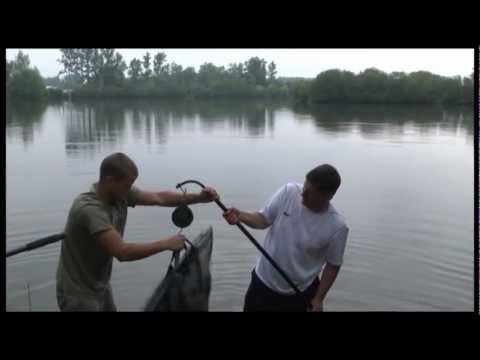 Laroussi Availability
Next Availability

is
Sat 3rd Aug 2013. There are 3 spaces available.

Click the button below to get a price for a holiday for

3

anglers on Sat 3rd Aug 2013.

If you would like a price for a holiday to Laroussi for 3 anglers on Sat 3rd Aug 2013 click the button below and let us know your requirements.


Overview
Carp fishing in France at Laroussi
In 2005 Laroussi burst onto the big fish scene with a bang... the catches were simply stunning. For example, over seven days in April '05 six different 50lb+ fish were caught - exceptional fishing which made headlines in most of the Carp Press. Each and every year since has been no different and the fantastic catch reports just keep rolling in.
The lake is a 34 year old virgin gravel pit set in the heart of the beautiful Pays de la Loire countryside. It lies close to Le Mans, famous for the legendary 24 hour motor racing circuit, and is within 3 hour's drive from the ferry at Caen.
Here are a couple of quotes from the 2012 feedback;
This was my 1st time at this venue. I've heard many stories (from friends) of how well this fishery is run by Mehdi the owner and the big fish it contains - and I wasn't disappointed either! I broke my Pb 4 times during the week. I was in dream land & then I went on to land a fish of a lifetime - a new Pb 60.02 mirror! What a lake full of dreams!
Nigel Cocks, April '12
A total of 47 fish were caught, including mirrors of 70lb, 61lb, 59lb, 58lb, 56lb & 10 x 40lb+ commons. All 8 of us had a pb's of one species or another and we have all been going to France for the past 10 years, which says something about the quality of this lake. As for the lake, just stunning, the pics on the website do not do it justice. Mehdi's a top bloke who's genuinely interested to hear about your captures and happy to offer guidance if required but will leave you to enjoy your holiday if not. We are already booked for a return next year and only been back a few days. If you like drive and survive style breaks this is up there with the best of em.
David Webb, April '12
Click here to check availability and get a price now.
The Carp Lake
Laroussi is a mature, natural looking lake of around 15 acres with many interesting features including plateaus, overhanging trees, lily pads, shallows and gullies up to 5m deep. The average depth is around 3m, with a gravel, sand and clay bottom and there are no crayfish or poisson-chats present.
There are 7 swims (some doubles) for a maximum of 8 anglers - giving each one over one acre of lake to themselves! It is possible to book the lake exclusively. All the swims are easily accessible and comfortable.
The lake is fenced and tree lined making it totally private - it has been left as natural as possible giving a real feel of seclusion.
Venue Siret No; 449 890 102 000 14
Click here to view the lake photos.
The Carp
Laroussi was not open to the public in the first 33 years it existed, giving the original stock fish plenty of time to mature - it now offers exceptional big carp fishing.
Most of the carp are between 30lb and 40lb, with more than 35 different forties, 18 different fifties, 4 different sixties and a huge 76lb mirror, the current lake record. This is some of the best carp fishing in France you'll ever find.
Take a look at the customer feedback & you'll see the phenomenal catches which can be enjoyed at this lake. However, as is usually the case with big fish waters the fish don't give themselves up easily and you'll need a certain amount of experience to get the best from Laroussi… but work hard and the results are definitely there!
In addition, there is a good head of grass carp to 52lb (with at least 20 different between 32lb and 52lb)... koi to 23lb and 6 catfish between 69lb and 164lb, with several specimens over 80lb .
Click here to view

643

fish photos.
The Facilities
There are good angler facilities in a wooden chalet next to the lake including toilet (toilet paper not supplied), shower, fridge and large bait freezer. Nearest shops are 2km away (5mins by car).
Click here to view the facilities.
Click here to view

25

Points of Interest.
Carp Bait
This venue stocks Quest Baits. To order bait please contact the owner, Mehdi, direct. His Email address & phone number can be found on the directions sheet which will be made available to you in your Customer Area on our website when your holiday has been paid for in full. Mehdi is French but speaks good English, so providing you speak slowly & clearly you'll have no problems.
Please pay for the bait in Euros when you arrive. Please note; the Euro to £ sterling exchange rate can fluctuate throughout the year.
Boilies;
Quest Fruity Trifle, Rahja Spice, Special Crab Plus, Pineapple Crush. Shelf-life, 15 mm. 5kg bags
Pop-ups to match
Prices as per Quest price list.
Other items;
Partiblend cooked...

14€ / 5kg

Trout pellets...

13€ / 5kg

Carp pellets...

11€ / 5kg
Please note; Bait orders are made directly between you and the lake owner and/or Quest Baits. We (Angling Lines) cannot be held responsible for any problems that may subsequently arise. If you order bait to be waiting for you when you arrive we strongly recommend you telephone or Email the owner a few days before your arrival to make sure it will be there for you. In 99% of cases this will just be purely precautionary, but bait is such an important part of your holiday that it's only sensible to take every step to avoid problems.
Carp Tackle Hire
Baitboats;
There are 2 quality Baitboats available for hire.
PLEASE NOTE; ONLY If your party books Laroussi exclusively is it permitted to use a baitboat.
The cost is 130€ per week (plus deposit of 200€)
Click here to view more info on tackle hire.