Live Help
Click above for
LIVE HELP
or if we are offline you can leave us a message and we'll get back to you.
Become a Customer
Become an Angling Lines customer and receive Email news from our venues plus details of any offers we are running.
Click here
if you'd like to become a registered customer.
Carp fishing in France at Villefond
Villefond
8
55lb
7
6
3h 40m
St Malo
Per angler, per week from...
£228
based on
6 anglers. Lake exclusive. Minibus crossing.
Villefond Video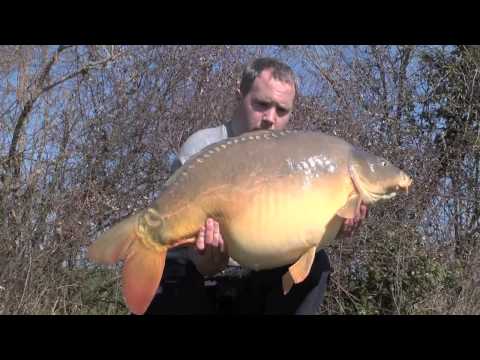 Villefond Availability
Next Availability

is
Sat 1st Jun 2013.

There are

3

spaces available.

Click the button below to get a price for a holiday for

3

anglers on Sat 1st Jun 2013.

If you would like a price for a holiday to Villefond for 3 anglers on Sat 1st Jun 2013 click the button below and let us know your requirements.


Overview
The Villefond carp are growing and growing fast! The average weight of carp being caught is well into the thirties with 4 x 50lb+ carp, at least 35 x 40's and countless 30's. However, Villefond is not a runs water; it's a serious big fish water and the carp are wising up quickly so they will really test your angling skills... but get your presentation right, encourage the fish to feed confidently, and you will experience some amazing and memorable carp fishing.
We're confident Villefond will become a must visit destination for carp fishing in France. If targeting large carp in beautiful surroundings is your goal then it's definitely a venue that you should visit.
Here's a couple of feedback quotes from 2012;
Great owners, very helpful, listen to mark and you won't go far wrong. Great venue with massive fish. It's the best holiday I've been on , everything you could ever want from a fishing holiday. Food package is brilliant - massive portions more than worth the money. No need to worry about cooking just enjoy the massive fish!
Ben Harrison, April '12
We would like to thank the Lamberts for making us feel very welcome to the fishery. A special thanks to Mark and John for helping me to smash my Pb a massive 4 times! This lake is full of surprises to the right anglers that are willing to read & research the website and listen to the owners that are there to help.
Alan Brook, June '12
Click here to check availability and get a price now.
The Carp Lake
First introduced to the carp fishing public in 2008, the complex is completely secure and can be found down a little used country road in a very tranquil corner of France. Motorway links are excellent and the drive down from Calais is just over 5 hours, or around 3½ hours from St Malo.
The lake is a mature 8 acres which has been a fishery since the 1930's. It has good access to all pegs, with 7 purpose built swims, including one double, for a maximum of 6 anglers. The margins with their over-hanging trees and shrubs are definitely not to be ignored; they are really productive fish holding areas. There's also a tree lined island which is reachable from most swims.
The lake is largely snag free open water and the hard clay bottom varies from 1 to 5 metres with only a small amount of silt in the deeper water.
There are crayfish present (that's why the carp grow so big!) but with the modern angling techniques of skinning boilies with heat shrink tube and meshing baits these will not cause you problems. Go prepared, there's lots of information on our Blog on how to combat them.
Venue Siret No; 752 007 716 000 18
Click here to view the lake photos.
The Carp
The lake has around two hundred carp with nothing stocked under 20lb. They have grown exceptionally well and if you take a look at the catch reports you'll see that the average size is now pushing the 40lb mark.
There are at least 4 known carp over the magic 50lb barrier & the biggest resident was last caught at 55lb... based on its growth to date it's safe to predict it will make 60lb very soon, if it hasn't already!
There are also 3 catfish with the biggest never being accuratly weighted due to maxing out the anglers scales, but the second biggest has been accurately recorded at 75lb plus.
Please note; The sturgeon which is shown in the venue video is no longer in the lake.
Click here to view

560

fish photos.
The Facilities
There's a clean lodge which houses the toilet, shower & wash basin plus you can charge batteries (by generator). There's no internet access at the lake but the owners are happy for you to use the computer at their house (around 3 miles away) if you want to check Emails.
A row boat is available for you to use but you must use a lifejacket (one is provided).
Un-hooking mats are supplied and must be used to prevent the transfer of disease.
There's also a carp barrow to help transport your tackle to your swim.
Accommodation;
As a optional extra there's a very comfortable mobile home sited around 20m from the lake. It offers you the chance to take a non-fishing guests & know they'll be more than happy... or maybe you just want a bit more comfort for yourself. It offers;
* 1 double master bedroom, 1 smaller double and a double that can be converted from the sofa in the lounge
* gas cooker, fridge and full kitchen facilities
* no mains electric but solar panels for lighting (there's also a generator on site)
* the toilet & sink are fully functional but you'll need to shower at the adjacent on-site shower block
General;
A bar & restaurant are located a short walk away, the local bakery is only five minutes away and it's a short 15 minute drive to the supermarkets of Bressuire and Parthenay.
Click here to view the facilities.
Click here to view the accommodation.
Click here to view

12

Points of Interest.
Meals
This venue can provide a meal package of evening meal & breakfast baguette.
The meals will be delivered to your swims at an agreed time and evening meals are served with fresh bread & butter and a glass of wine or beer.
Please note; if you book the food package you will be asked to pay a 10% deposit to Angling Lines and the balance to the lake in Euros when you arrive. Please note that due to fluctuations in the exchange rate the balance you pay when you arrive may not equate exactly to the remaining 90% in £'s sterling – it may be slightly more or less due to a change in the exchange rate.
The cost for the
Full Food Package
is
£106
The cost for just the
Evening Meal Package
is
£72
Click here to view more info on meals.
Carp Bait
This venue stocks bait. All boilies are 10€ / Kg. They are fresh-frozen and available in sizes 14 to 20mm.
They also stocks particles.
Important note; only particles prepared on-site by the owner, or bought from a reputable supplier, will be allowed. All nuts (eg Tiger Nuts, Peanuts) are banned.
Click here to view more info on bait.
| | |
| --- | --- |
| Villefond Discounts | Carp fishing in France |
50% OFF the venue and 35% OFF the ferry between 9th November 2013 and 28th February 2014
Conditions:

A 50% discount applies to exclusive fishing ONLY.
A 35% discount applies to a Dover - Calais ferry crossing. Other crossings will be discounted but it may not be possible to offer a 35% discount on the ferry crossing.
Accommodation, bait and food are NOT included in discount.
---
Click here to check availability and get a price now.
| | |
| --- | --- |
| Villefond Offers | Carp fishing in France |
Return visits;
Visit this lake 2 (or more) times in the same calendar year & get a 10% discount on the return visits!
We have lots of customers who make more than one trip with us and we want to reward that loyalty. Certain venues have agreed to participate in a discount scheme for return trips. This lake is one of those taking part… so book a return trip and get your 10% discount!
Conditions:
Applies to fishing only & excludes accommodation (if normally booked separately), food, bait etc.
Applies to ferry crossing for vehicle only (excludes trailers, cabins etc)
Members of a group booking who have not visited twice will not be eligible for the discount
This offer is only valid for return trips taken in the same calendar year and cannot be taken in conjunction with any other offer or special discount applied to this lake
Want a price for this venue based on your particular requirements?
Click here to check availability and get a price now.